The Twelfth Man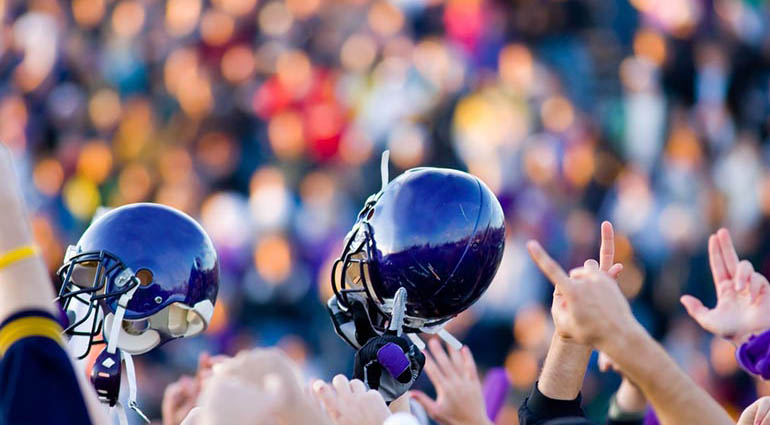 Read: Hebrews 11:32–12:3 | Bible in a Year: Ezekiel 3–4; Hebrews 11:20–40
00:00
Download MP3
Subscribe to iTunes
Let us run with perseverance the race marked out for us. Hebrews 12:1
A large sign at the Texas A&M University football stadium says "HOME OF THE 12TH MAN." While each team is allowed eleven players on the field, the 12th Man is the presence of thousands of A&M students who remain standing during the entire game to cheer their team on. The tradition traces its roots to 1922 when the coach called a student from the stands to suit up and be ready to replace an injured player. Although he never entered the game, his willing presence on the sideline greatly encouraged the team.
Hebrews 11 describes heroes of the faith who faced great trials and remained loyal to God. Chapter 12 begins, "Therefore, since we are surrounded by such a great cloud of witnesses, let us throw off everything that hinders and the sin that so easily entangles. And let us run with perseverance the race marked out for us" (v. 1).
Lord, give us strength to run our race of faith today.
We are not alone on our journey of faith. The great saints and ordinary people who have been faithful to the Lord encourage us by their example and also by their presence in heaven. They are a spiritual 12th Man standing with us while we are still on the field.
As we fix our eyes on Jesus, "the pioneer and perfecter of faith" (12:2), we are spurred on by all those who followed Him.
Lord, may we be aware of those in heaven who are cheering us on. Give us strength to run our race of faith today.
Faithful Christians from the past encourage us today.
INSIGHT:
The target audience for the book of Hebrews is Jews who had trusted Jesus as their Messiah. But due to persecution, in some cases imprisonment, and through confiscation of personal property, they were tempted to forsake their faith in Jesus and return to Judaism.
By David McCasland | See Other Authors
Our Daily Bread Topics: Encouragement Stories of Faith
Tags: example, faith, loyalty, perseverance
You can make a difference.
Even the smallest donation helps reach people around the world with the life-changing wisdom of the Bible.
Today's Shareable Image
Today's Shareable Video
Comment navigation
‹ Older Comments12
By submitting your comment, you agree to comply with the Comment Guidelines
Leave a Reply
You must be logged in to post a comment.
SUBSCRIBE NOW to get the Our Daily Bread daily email.
SUBSCRIBE
Our mission is to make the life-changing wisdom of the Bible understandable and accessible to all.
Our vision is to see people of all nations experiencing a personal relationship with Christ, growing to be more like Him, and serving in a local body of His family.
Daily
Discover
Topics
Resources
Devotionals
Get Involved
Sent from my iPad